ALTON, ILLINOIS – As the snow slowly began to fall, the water quickly rose in the Illinois river town of Alton, city crews and local volunteers have been working non-stop to try to stay ahead of the rising Mississippi to protect their community.
According to the most recent reports from the NWS, the Mississippi River will crest on New Year's Day in Alton at 35.7 ft, just 9 feet short of the record Great Flood of 1993 and less than a foot from the crest of the Flood of 1973.  Flood stage is 21 ft.
People from all walks of life — the football team from Civic Memorial High School in Bethalto, the Brothers Burden motorcycle club of Cottage Hills, a group of atheist friends — have worked around the clock sandbagging and erecting the retaining wall that encompasses the majority of the downtown area.
One volunteer, named Earl, told The Yellow Press "I have lived here my whole life.  I've seen 3 major floods and helped with all of them.  At age 11, I was out here throwing sandbags for the flood of '73, again in '93, and now in 2015."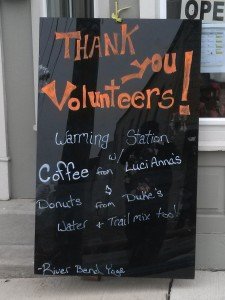 Local businesses, like Big Muddy Pub and River Bend Yoga set up their shops as warming centers so the volunteers would have somewhere to go to warm up and have some coffee and donuts.
Vicky Delaney, co-owner of River bend Yoga, was concerned as to whether or not she would be able to keep the studio open. "The basement's gone, and the water's coming up," Delaney said. "If the main floor floods it's going to be coming up (from the basement). The pumps are running. We're doing all we can do."
This story continues to develop at the water continues to rise.