'Our Focus Should Be On Import Substitution To Cater To The World's Growing Markets'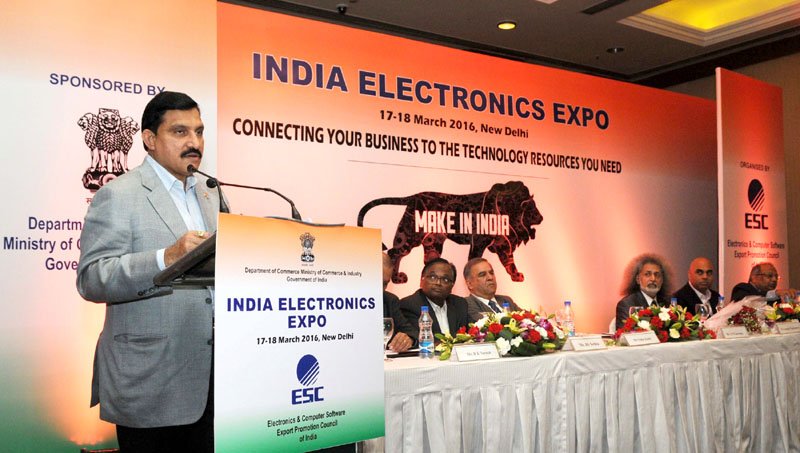 India Electronics Expo 2016
New Delhi (PIB-GR-TYP-BIN): Minister of State for Science & Technology and Earth Sciences, Mr. Y.S. Chowdary, while inaugurating second edition of India Electronics Expo, organized by Electronics and Computer Software Export Promotion Council (ESC) on March 17, reflected upon the current status of Electronics manufacturing and exports sector in India.
In the backdrop of the Aadhaar bill being passed in the Parliament today, the Minister observed that coupled with the Make in India, Digital India and Skill India programmes, the Aadhaar platform would not only connect the entire country but also sort out a host of governance issues and bring over one billion Indians to the mainstream. As a result of this, he predicted, a huge demand for electronics products and components will be generated in the near future.
Mr. Chowdary noted that against huge imports our electronics exports are hardly US$ 6 billion and hardware exports paling into insignificance as compared to the computer software and services exports of over US$ 100 billion. Our focus should be on import substitution and generating state-of-the-art capabilities to cater to the world's growing markets, he remarked.
Mr. Vinod Sharma, Chairman, India Electronics Expo said that the event should not be seen as a mere platform for transacting businesses but an extended canvass for forging meaningful partnership between Indian manufacturers and overseas businessmen leading to technology transfer, joint ventures etc.
Earlier in his welcome address, Mr. Saumen Chakraborty, Chairman, ESC underscored the need for blending India's software expertise with hardware to create newer paradigms in the digital space by moving up in the value chain.
Others present at the occasion were Mr. Nalin Kohli, Past Chairman ESC and Chairman Indiasoft Organizing Committee, Mr. Prasad Garapati, Vice Chairman, ESC and Mr. D K Sareen, Executive Director, ESC.
(Source: PIB/GR/TYP/BIN/USPA/WN/IAIJ)