Yoga Has Universal Appeal And Cuts Across All Religions : Rajnath Singh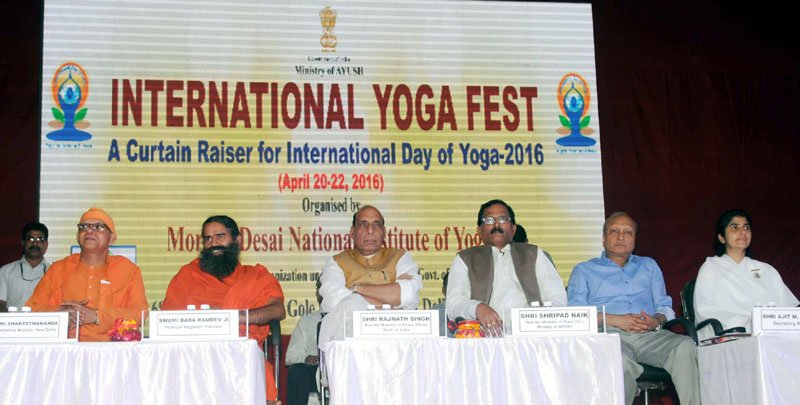 Reaching Out To The Youth Is The Focus Of This Year's International Day Of Yoga Celebrations: Shripad Yesso Naik
New Delhi (PIB-GR-TYP-BIN): The three day International Yoga Fest ended on an enthusiastic note in New Delhi on April 22. The Yoga Festival was a Curtain Raiser for this year's International Day of Yoga-2016 celebrations. The Union Home Minister, Mr. Rajnath Singh was the Chief Guest at the valedictory function.
Addressing the gathering, the Union Home Minister, Mr. Rajnath Singh said that the Yoga has universal appeal. Mr. Singh said that more than 170 countries had sponsored the resolution on the International Yoga Day in the United Nations General Assembly. He said this was the first time in the history of the United Nations that a resolution received such widespread support.
The Home Minister said the declaration of International Yoga Day is a huge success of India's diplomacy and cultural outreach. This success we owe to the vision of the Prime Minister Narendra Modi, he added. The Union Home Minister said Yoga is an invaluable cultural heritage of India and is now being practiced in all continents. Yoga cuts across all religions, and helps in achieving coordination, balance and unity between the body, mind, intellect and soul, he added. He said that this leads to a balanced human being which forms the basis of a balanced society, leading eventually to a balance in the natural world and oneness with its creator.
Speaking on the occasion, the Union Minister of State for AYUSH (Independent charge) and Health & Family Welfare, Mr. Shripad Yesso Naik said that the last three days have witnessed an unprecedented amalgamation of thoughts and ideas on various aspects of Yoga expressed by Yoga Gurus and eminent Yoga experts from across the country and few from abroad.
The Minister explained that during this year, we are emphasizing on participation of youth in celebration of International Yoga Day in a big way to create a generation of young Indians equipped to take on future challenges and achieve their full potential. It is necessary that the youth are in good physical, mental and spiritual health and make healthy and balanced lifestyle choices. Youth specific health issues must be addressed through targeted programmes, he added.
Shri Naik said that Yoga being a science of holistic health, is the best guarantee for the health problems of the people. Not only Yoga takes care of the health, it gives a new dimension to the overall personality of a person.
The Minister of AYUSH said that International Day of Yoga should be celebrated as country's pride and we should try to encourage youth to inculcate Yoga practices and principles in their daily life.
Director, Morarji Desai National Institute of Yoga, Dr Ishwar V Basavaraddi in his introductory speech, gave a roundup of the activities at the three day festival which included workshops by 14 Yoga Institutions, Yoga demonstrations by 80 Yoga experts and practitioners, and participation by heads of 15 premier Yoga Institutions at the inaugural function along with the release of a DVD on Common Yoga Protocol.
The International Yoga Fest witnessed the presence and discourses by eminent yoga Gurus like Swami Baba Ramdev, Dr. H.R. Nagendra, Sh. O.P. Tiwari, Sh. Prashant Iyenger, Smt. Hansaji Jayadev, Sister Shivani, Dr. M.V. Bhole, Swami Bharat Bhushan, Smt. Kamlesh Barwal, Swami Ullasa, Shri Rajiv Chanchani, Sadvi Bhagavati Saraswati, Swami Shantatmananda and many more from the yoga fraternity.
(Source: PIB/GR/TYP/BIN/USPA/WN/IAIJ)