Environment Minister Leads Second International Yoga Day Celebrations At Thiruvananthapuram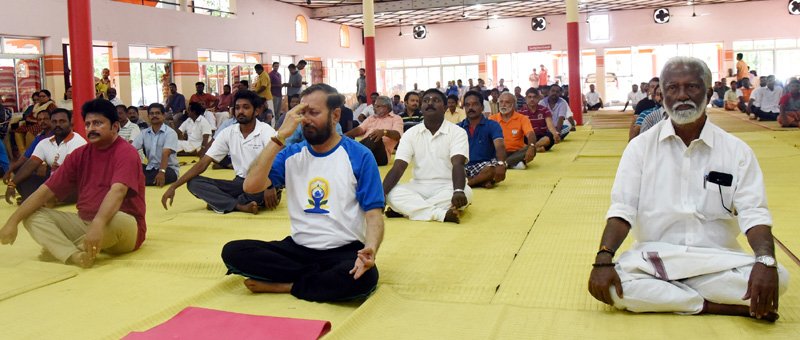 The Minister of State for Environment, Forest and Climate Change (Independent Charge), Mr. Prakash Javadekar performing Yoga along with other participants, on the occasion of the 2nd International Day of Yoga – 2016, organised by the State Govt. (AYUSH Department), at Central Stadium, Thiruvananthapuram on June 21, 2016.
Yoga Is The Most Effective Health Prescription
Thiruvananthapuram (PIB-GR-TYP-BIN): On the occasion of the International day of Yoga, Minister of State (Independent Charge) Environment Forest and Climate Change Mr. Prakash Javadekar, led the Yoga Day celebrations at Vinayak Kalyan Mandapam, Thiruvananthapuram on June 21.
Speaking on the occasion, Mr. Javadekar said that "Yoga is a way of life. Yoga is the most effective health prescription which any doctor can give. It is the key to good health, harmony and peace. With Yoga, you can be at peace with yourself, you can be at peace with your family, your surroundings and you can also be at peace with your work. So Yoga can actually bring about good work-life balance. Yoga is an Indian treasure which the world has now recognised. We have to take it to the last mile to everybody'. Prime Minister Narendra Modi's visionary leadership has given a boost to our heritage of yoga and given it world wide acceptance and also popularised it all over."
Hundreds of people participated in the Yoga session on the occasion and school children also enthusiastically performed Yoga. Mr. O Rajagopal, MLA and Kerala State BJP president, Mr. Rajsekharan, also participated in the programme.
(Source: PIB/GR/TYP/BIN/USPA/WN/IAIJ)