Transformative Potential Of Universities Needed To Overcome Societal Inequalities And Deep-Seated Prejudices: Vice President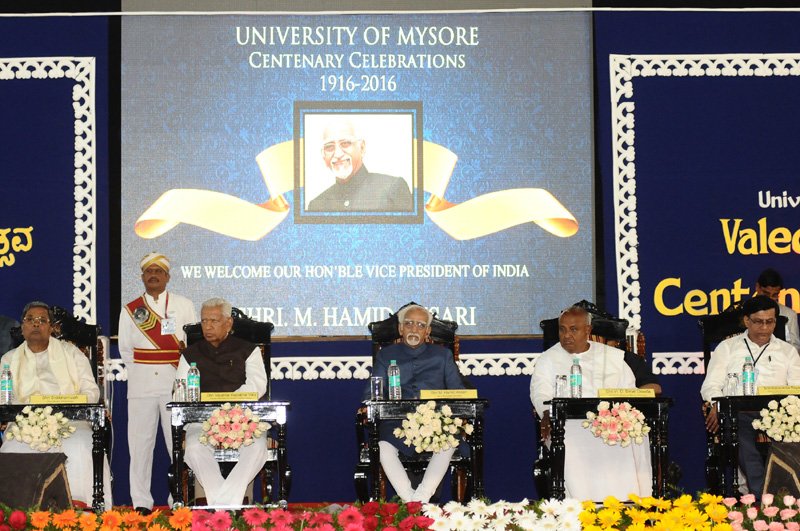 Addresses Valedictory Of Centenary Celebrations Of Mysuru University
Mysuru (PIB-GR-TYP-BIN): The Vice President of India, Mr. M. Hamid Ansari has said that the transformative potential of universities is most acutely needed in societies like India where we struggle against societal inequalities and deep-seated prejudices. He was addressing the Valedictory Function of the Centenary Celebrations of the Mysuru University, on July 22.
The Governor of Karnataka, Mr. Vajubhai Rudabhai Vala, the Former Prime Minister, Mr. H.D. Deve Gowda, the Chief Minister of Karnataka, Mr. Siddaramaiah, the Minster of Higher Education, Government of Karnataka and Pro-Chancellor, Mr. Basavaraja Rayareddy, the Minister of PWD and Mysore District-in-charge Minister, Government of Karnataka, Mr. H.C. Mahadevappa, the Chairman, University Grants Commission, Prof. Ved Prakash, the Vice Chancellor of Mysuru University, Prof. K. S. Rangappa and other dignitaries were present on the occasion.
The Vice President said that Mysuru University has been contributing to the making of India's knowledge society. He said that in this 'age of Information', few would dispute the importance of universities, however, recent events in our own country have shown that there is much confusion about what a university should or should not be.
The Vice President said that universities can be agents of social justice and mobility. He further said that they can foster fraternity and must contribute to social and cultural vitality and building an egalitarian society. A university that moulds itself only to present demands is one that is not listening to its historians, he added.
The Vice President said that history is at its most illuminating when written with the full consciousness of what people wrongly expected to happen and universities are also forums of free speech and debate. The Universities can act as both the weather vanes and safety-valves of political dissent and direction, he added. The Vice President cautioned that suppression of such discourse only breeds mistrust, and begets social malcontent.
(Source: PIB/GR/TYP/BIN/USPA/WN/IAIJ)