Stronger India-Nigeria Relations Would Be Mutually Beneficial: Vice President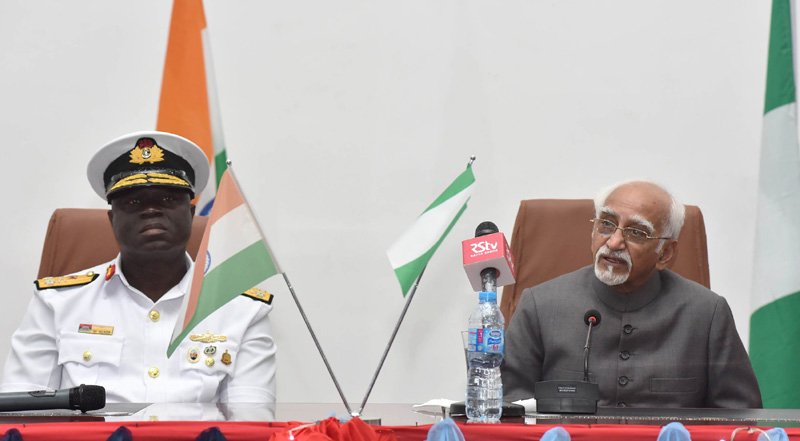 Addresses Nigerian National Defence College
Abuja (PIB-GR-TYP-BIN): The Vice President of India, Mr. M. Hamid Ansari has said that considering the diverse security challenges of our times, stronger India-Nigeria relations would not only be mutually beneficial, but would also add to the regional and global security. He was addressing officers of the National Defence College, Abuja, Nigeria, on Sep 28. The Commandant of the National Defence Academy, Nigeria, Rear Admiral Samuel Alade and other dignitaries are present on the occasion.
The Vice President said that the decline in inter-state warfare in the first decade and a half of the present century has been coupled with an increase in lower intensity civil conflicts. Consequently, the idea of security has expanded beyond the traditional sphere of military security, and there is growing recognition that security of any given society is also impacted by several non-military factors, including political, economic, environmental, social and human domains, he added.
The Vice President said that the task of defining, and implementing, a security paradigm is far more challenging in democratic, pluralist, developing societies with heterogeneous populations having diversities of religion, ethnicity and languages. He also said that our main concern should, therefore, be to establish the credibility and legitimacy of the state and its institutions. Aberrations must be resolved in a transparent and just fashion as public perceptions are important, he pointed out. As developing nations with global aspirations, both Nigeria and India face similar security challenges ranging from climate change and diverse societal needs which have been compounded by the spread of terror and newer fears of insecurity in our regions.
The Vice President said that today, the biggest threat to international peace, and to the sovereignty of States, is Terrorism which Kautilya called "secret war". He also said that no cause justifies the indiscriminate killing of innocent civilians as a means to achieve a political goal or change of policies. Nigeria, like India, has suffered the horrors of this scourge of humanity and use of terrorism as an instrument of State policy is to be unequivocally condemned, he added.
The Vice President said that the long standing defence partnership between India and Nigeria is symbolized by institutions such as the Nigerian Defence Academy at Kaduna; the Naval College at Port Harcourt and other elite military training establishments in Nigeria and many illustrious Nigerian officers have been the flag bearers of our bilateral cooperation. We must also find ways of using international opinion as a force multiplier, he added.
(Source: PIB/GR/TYP/BIN/USPA/WN/IAIJ)