JP Nadda Stresses Importance Of Prevention And Community Participation To Combat Dengue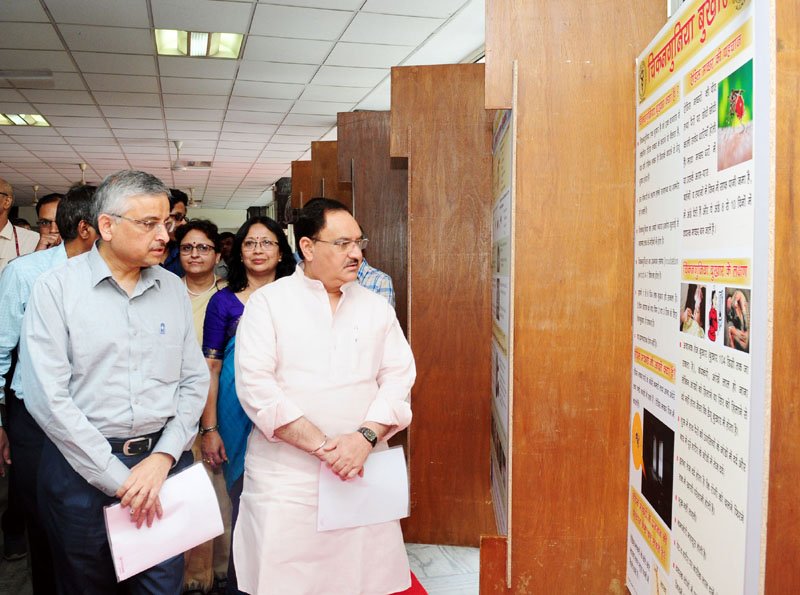 National Dengue Day
New Delhi (PIB-GR-TYP-BIN): "Commitment at all levels is essential for prevention and control of Dengue. By putting our hands together we can prevent our community from dengue." This was stated by Mr. J P Nadda, Union Minister of Health and Family Welfare in a function jointly organized by All India Institute of Medical Sciences (AIIMS), New Delhi, and National Vector Borne Disease Control Programme (NVBDCP) to mark the National Dengue Day, on May 16.
Reiterating the commitment of Prime Minister towards making India clean, Mr. Nadda said that amongst various steps/strategies which need to be put in place for this problem, our main focus should be on controlling the vector itself. For this purpose, cleanliness is the most important thing. National Dengue Day is an occasion to spread awareness about its prevention and control. "It is the responsibility of all of us and within our communities to insist that we don't create an environment for the dengue to breed," the Minister added
Mr. Nadda also said that 'Dengue free India', is a vision which can be fulfilled by increased community ownership to prevent dengue related morbidity and mortality in India. "Community efforts in right direction can minimize the disease burden in the country. Simple measures can be taken for keeping the surroundings clean and free of aedes mosquitoes. Success of the Dengue control programme is related to community participation and ownership," he elaborated.
The Health Minister urged RWAs to take out sometime every week to keep their colonies free of dengue mosquitoes and informed that the Ministry will hold workshops with the newly elected MCD Corporators for orienting them on preventive measures for dengue.
Dr. Soumya Swaminathanam, Secretary, Department of Health Research (DHR), Dr. Jagdish Prasad, Director General of Health Services and Dr. Swarup Sarkar, Director, Communicable Diseases, WHO-SEARO were also present at the occasion.
Also present at the event were Mr. Navdeep Rinwa, Joint Secretary, and other senior officers of the Health Ministry, doctors and students from AIIMS, New Delhi, representatives from RWAs, MCD workers and members of various NGOs and CSOs.
(Source: PIB/GR/TYP/BIN/USPA/WN/IAIJ)