Farmers Have Worked Hard And Produced Enough Food Grains In Spite Of Adverse Circumstances: Radha Mohan Singh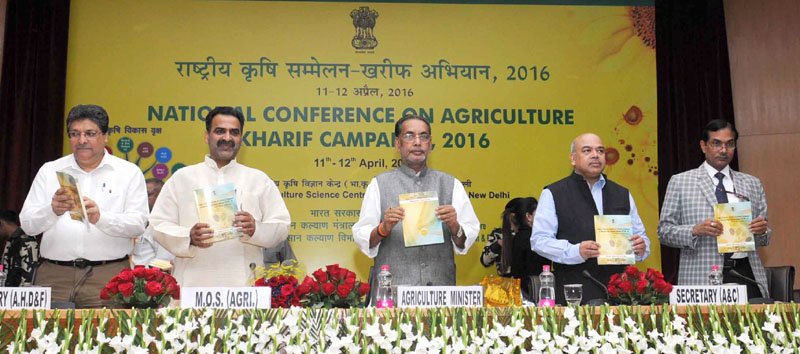 Government Is Taking Long Term Measures To Remove The Problems Of The Farmers
New Delhi (PIB-GR-TYP-BIN): Union Agriculture & Farmers Welfare Minister, Mr. Radha Mohan Singh said that government is taking concrete steps to remove debt problems of the farmers. He also said that Government has increased Agricultural Credit target Rs. 9 lakh crore for the year 2016-17 to bring the farmers within institutional fold. He added that government is taking long term measures to remove the problems of the farmers.
Speaking at the occasion on April 11, he said this in two days Kharif Conference being held at NASC-ICAR Institute Pusa, New Delhi. He informed that it is for the first time that the representatives of agriculture and related sectors have been invited for the conference. He observed that in spite of a severe loss to the crops owing to unseasonable rainfall, hailstorm and other natural calamities, the whole food grain production which was 252.02 million tons in 2014-15 as per advance estimate (15.2.2016), it has been increased to 253.16 million tones on 2015-16.
The Minister said that the government has to double the farmers' income in the next five years as is announced in the budget 2016-17. The Prime Minister has suggested 7 points to achieve the target.
(Source: PIB/GR/TYP/BIN/USPA/WN/IAIJ)