Delegation Of Eminent Muslims Calls On Prime Minsiter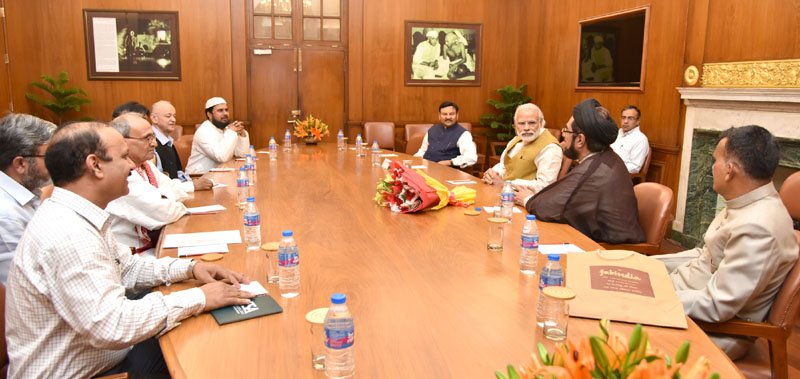 PM Reiterates Commitment To Development
New Delhi (PIB-GR-TYP-BIN): A delegation of eminent Muslim citizens called on the Prime Minister, Mr. Narendra Modi, on April 13. The members of the delegation included Maulana Kalbe Jawwad – Shia Cleric; Mr. Kamar Agha – expert on International Islamic Affairs; and Mr. Shahid Siddiqui, among others.
Members of the delegation congratulated the Prime Minister on his recent successful visit to Saudi Arabia. They said people in West Asia, Central Asia and North Africa, especially the youth, are extremely impressed with the development agenda of Mr. Narendra Modi, and want good relations with India.
Members of the delegation also praised Mr. Narendra Modi's development agenda, and his successful implementation record.
The Prime Minister thanked the delegation, and reiterated his commitment to development, laying special stress on education, and especially girl child education. He expressed hope that the Muslim community in India shall be able to derive huge benefit from the welfare schemes initiated by the NDA Government, such as the Pradhan Mantri Fasal Bima Yojana, and Mudra Yojana.
(Source: PIB/GR/TYP/BIN/USPA/WN/IAIJ)