President Meets Award Winning School Teachers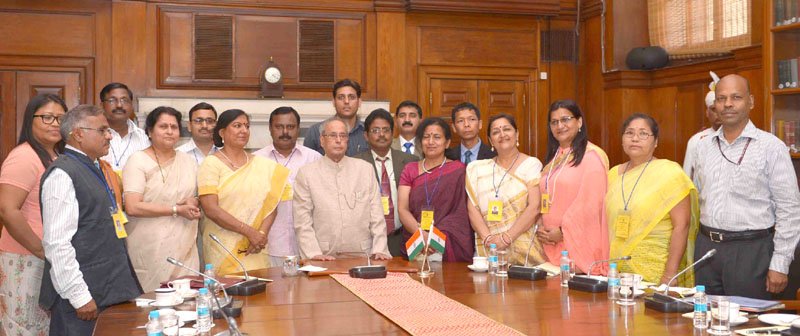 The President, Mr. Pranab Mukherjee with the teachers attending In-Residence Programme for Award Winning School Teachers from States/Union Territories along with two coordinators from Dr. Rajendra Prasad Sarvodaya Vidyalaya, President?s Estate, at Rashtrapati Bhavan, in New Delhi on May 23, 2016.
'Teachers Are The Most Important Factor In Nation Building'
New Delhi (PIB-GR-TYP-BIN): The President of India, Mr. Pranab Mukherjee met twelve Award Winning School Teachers from States/Union Territories attending 'In-Residence' Programme at Rashtrapati Bhavan on May 23. This is the first such 'In-Residence' Programme for school teachers. Similar programmes exist for writers, artists, grass root innovators, NIT students and inspired teachers.
Speaking on the occasion, the President said that all the participants of the 'In-Residence' programme should strive continuously for achieving higher goals. For them sky is the limit. He said that no civilizational progress could have been possible if teachers did not give their wisdom to society on the basis of which progress takes place. He stated that our tradition is that of 'Guru-Shishya Parampara'. He emphasized that teachers are the most important factor in nation building. He said that he had spent four decades of his public life within a stone's throw of the Rashtrapati Bhavan building but had been unaware of life in Rashtrapati Bhavan and the President's Estate. Therefore, he had decided that it must be open to the people.
Secretary to the President, Mrs. Omita Paul said that the role of teachers in education is paramount. They provide a nurturing environment for students at all times and have a catalyzing influence on their lives.
Also present on the occasion was Secretary, Department of School Education and Literacy, Ministry of HRD who said that teachers are central to any educational system. He emphasized three areas relating to education i.e. improving access, equity and improving the quality of education.
Participants of the 'In-Residence' programme said that they were honoured to be part of the programme and were grateful to the President for giving them this opportunity. It would inspire them as well as other teachers to excel in their profession.
(Source: PIB/GR/TYP/BIN/USPA/WN/IAIJ)