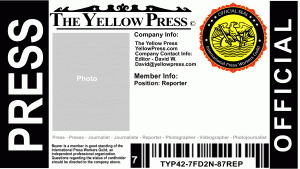 Download this easily customized press card file, add your information and photo and print it to allow you to act as a reporter for The Yellow Press. The file is easily edited by standard image editing programs, areas are provided for you to insert your photo and information like your name and email address. Print it in a size that works for you and use it to show you are a member of an elite corps of dedicated journalists, dedicated to getting the story out, as they see it. Print it in a smaller size and laminate it for easy wallet storage. A little larger, laminated and hung from a lanyard or tucked into your hatband and you could use it to request access to events and concerts. In its largest form it can be displayed on your dashboard as a handy identifier.
Suggestions for use.  After downloading the file, save it in a folder where you normally store photos or images and make a copy that you can rename to use to edit and make your own press credentials. Using a program to edit graphic images, Gimp is a full-featured, free open source program you can use if you don't have one already, paste a suitable photo in the appropriate spot and use the space labeled Member Info to provide the information you'd like. We recommend your  full name and email address at a minimum. Now the image can be re-sized to fit your needs. Try out a few sizes until you find what you like. If you lack a proper printer to take advantage of the full color of the press card many copy centers can print a high quality image at a reasonable cost. Many  of our reporters and photojournalists purchase plastic laminating sheets from an office supply store and apply these adhesive backed films to protect their press pass. Lanyards can also be purchased at office supply stores for journalists wishing to wear their press card in this fashion.
Join Us   We would like to have you do more than just look the part. Become a reporter for The Yellow Press. We are building a benevolent empire to provide both news and entertainment to and by people who can tell the difference. Opportunities exist for all who have something to say, whether it's in the written form, the artistic mediums or simply a YouTube video. Feel free to use our contact form, that's what it's there for.